POCKET DOWSING RODS !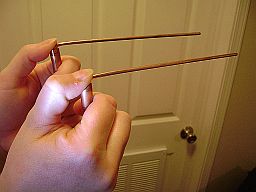 Joshua P. Warren presents
Rods Compact Enough to Keep With You at All Times
Only 6 inches long, with swivel handles, instructions and a nice felt carrying case . . .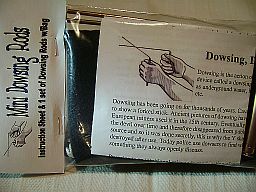 Just $16.95 INCLUDES shipping & handling!

We searched far and wide to find the best little dowsing rods around. And now, Warren uses them on many of his investigations.

These rods are well machined copper, and due to nice handles, they swivel easily.

Dowsing can be done with a variety of tools, but using rods dates back to ancient times. Though dowsing is commonly used by land developers to find water, and oil companies to find petroleum, dowsing is only limited by your mind. Lots of people dowse to find gold, lost objects, or even gain answers to cosmic questions. They are the simplest tool you can use on a paranormal investigation, giving you objective feedback from your own psychic senses.

If you've never dowsed before, this is the perfect kit to get you started. It comes with simple instructions, and you'll be dowsing in minutes. We also include a nice felt pouch (we choose the color) to store them in.

Buy this kit to see why dowsing has been popular for thousands of years!

We have a limited supply, so please be patient as we fill your order ASAP.

To buy Pocket Dowsing Rods, we take payment through PayPal:

Again, $16.95 USD includes shipping and handling . . .

But WAIT, there's More!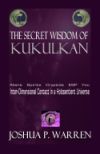 For this show, we have a special combo offer. If you order the Pocket Dowsing Rods along with a rare SIGNED copy of Joshua P. Warren's brand new, controversial book, THE SECRET WISDOM OF KUKULKAN, it's just $26.95, including shipping and handling. This book usually costs $14.95 online, so look how much you save. It explains how dowsing works, and the truth about ghosts, aliens, cryptids, psychic phenomena, and how you fit into the mysterious dimensions of life on this planet. You can learn more about the book at www.SecretWisdomBook.com
*AND if you buy the combo, we'll also throw in a FREE treat--ESP Psychic Tester software.*

This simple program allows you to test your ESP ability. You choose which symbols you think will pop up next, and the software keeps up with the stats, telling you if you're average, below average, or downright psychic! Once your order is complete, you'll be sent to a link where you can download this to your computer in seconds. That will keep you entertained until your combo arrives.

To order the Pocket Dowsing Rods / Secret Wisdom Book Combo for $26.95:

STAY INFORMED on NEW DEVELOPMENTS and FUTURE VIDEOS

Sign up for my FREE (and spam-free) e-newsletter at: www.JoshuaPWarren.com




Copyright 2010 by Shadowbox Enterprises, LLC