Joshua P. Warren presents . . .
CURRENTLY UNAVAILABLE DUE TO SEASON: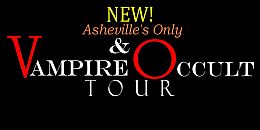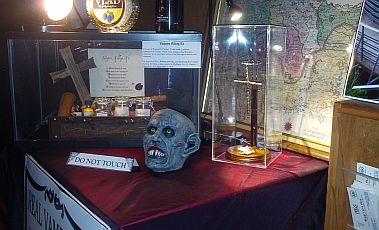 CURRENTLY UNAVAILABLE DUE TO SEASON:
Asheville & Vampires?
* We border Transylvania County. Why is it called Transylvania?
* What is the true agenda of the freemasons?
* Why is a "witch's tree" in our city-county plaza?
* What was the bizarre creature that terrorized our jail inmates in 1908?
* Are some buildings in our town truly "demon possessed"?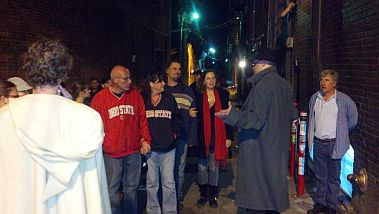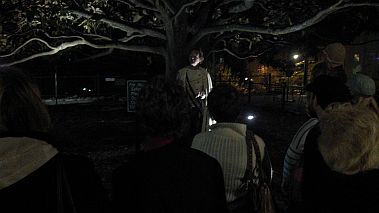 THIS 2-HOUR TOUR is the ultimate for intellectuals who want to take a step outside the bounds of a usual tourist experience. Your knowledgeable guide will explain, in the library of the Asheville Masonic Temple, what masonry is all about, and explore the conspiracies with you. Next we'll pass through some alleyways where dark and tragic events have transpired. You'll then get the full scoop on our local vampire scene, tribal rites in Pritchard Park, dark spirits on Church Street, Native American mysticism, and much more. This tour includes late-night access to the Asheville Mystery Museum where you'll see artifacts Joshua P. Warren brought back from Transylvania, including a sacred crucifix and a piece of Vlad the Impaler's Castle. This is Warren's favorite tour!
To learn more about this truly amazing new tour experience, listen to Warren and co-creator Tadd McDivitt discuss the tour on the radio. You can download the free mp3 by right-clicking and choosing "Save As" on this link: CLICK HERE FOR AUDIO
Starting March 20, 2015, this tour runs Friday nights, 8pm. Book online now! To plan a Vampire & Occult Tour:
CURRENTLY UNAVAILABLE DUE TO SEASON:

Questions? Email Tadd McDivitt, Chief Occult Researcher of the Asheville Mystery Museum, at: contact@HauntedAsheville.com or call (828) 398-4678.
IF your tour is confirmed, arrive at the designated time on the steps outside the Asheville Masonic Temple at 80 Broadway Street. Click HERE for directions. It's $20 per adult, $15 for children age 9-14. Age 8 and under is free.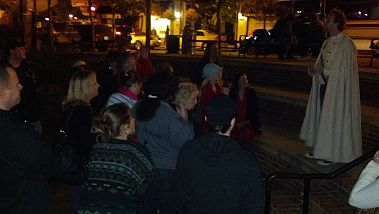 ---