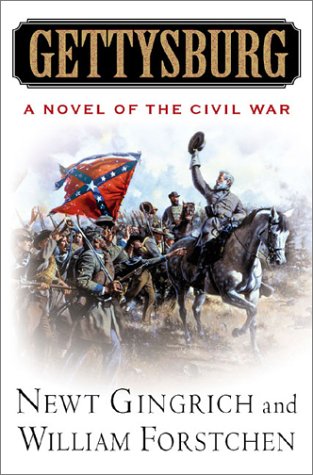 From Publishers Weekly:
This well-executed alternative history imagines a Confederate victory at Gettysburg. Former House speaker Gingrich (Contract with America) and historical fiction author Forstchen (Down to the Sea) create a plausible scenario: Robert E. Lee resolves to command, rather than merely coordinate, the efforts of that gaggle of prima donnas known as the high command of the Army of Northern Virginia. Thus, when he leads them into battle against the Army of the Potomac at Gettysburg, he does not commit his soldiers to a desperate head-butting on the ground chosen by the Union's General Meade. Instead, he maneuvers around the Union flank, placing his tightly run army between Meade and Washington, D.C., scooping up Union supplies and forcing Meade to launch desperate attacks with disastrous results for the Union cause. The authors show thorough knowledge of the people, weapons, tactics and ambience of the Civil War, though their portrayals of historical figures like Lee, Meade, James Longstreet and Richard Ewell betray a certain bias (the Confederate men are noble and wise, the Union leaders hot-tempered and vindictive). The novel has a narrative drive and vigor that makes the climactic battle scene a real masterpiece of its kind (it's not for the weak of stomach). The military minutiae probably makes the book inaccessible to anyone who's not a Civil War buff or military fiction fan, but those two sizable groups will find this a veritable feast.
Copyright © 2003 Reed Business Information, Inc.
"Two respected historians, one horrific battle—and the challenging question of 'what if...?' Sure to become a Civil War classic to be read and remembered."

~W.E.B. Griffin, author of Final Justice
"Gettysburg is a creative, clever, and fascinating what if novel which promises to excite and entertain America's legions of Civil War buffs."

~James Carville
"As historical fiction this stands beside The Killer Angels. As an alternative history of Gettysburg, it stands alone. The mastery of operational history enables the authors to expand the story's scope. The larger-scale, more fluid battle of Gettysburg described is internally consistent, a logical consequence of the novel's challenging major premise. The narrative is so clear that the action can be followed without maps. And the characters are sometimes heartbreakingly true to their historical originals."

~Dennis Showalter, Former President of the Society of Military Historians
"The novel Gettysburg puts forth an highly plausible and exciting scenario of a Confederate victory in the Pennsylvania campaign of 1863. The authors exhibit an in depth knowledge of not only technical details, but also the various personalities of the leaders how they could have reacted had things gone quite differently from history as we know it."

~Don Troiani, noted Civil War artist
To order Gettysburg: A Novel of the Civil War, click HERE
---

Website Designed and Maintained by Robert McGhee
All original site content Copyright © 2002 by Shadowbox Enterprises, LLC