The Burke County Tourism Development Authority has just released Joshua P. Warren's new booklet, Brown Mountain Lights: A Viewing Guide. It's the first comprehensive, authoritative literature on the Brown Mountain Lights. To read the free PDF, click on the cover!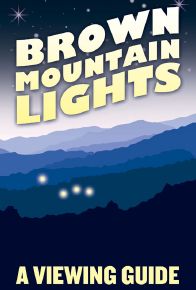 Amazing New Footage from Brown Mountain
Featured by the National Geographic Channel

This footage was shot, via 3rd Generation Night Vision technology, by Dean Warsing (check out www.UFOnightShift.com) on October 13, 2009. These clips were enhanced by Brian Irish with the assistance of Christopher McCollum. To understand why this is important, please watch the episode titled Mystery Lights on the program Paranatural on the National Geographic Channel. Our episode will debut on Monday, March 1, 9pm east coast (New York) time. It might replay a few times that week, as well.


Brown Mountain is a long, low-lying ridge on the border of Burke and Caldwell counties in Western North Carolina. Most of it belongs to the Pisgah National Forest. For perhaps 800 years or more, ghostly lights have been seen flaring and creeping along, and below, the ridge at night.

Some of the earliest reports came from Cherokee and Catawba Indians, settlers, and Civil War soldiers. Thousands have witnessed the spectacle, which is ongoing to this day. The lights have been investigated three times by the United States government, and countless times by private groups.

The eerie illuminations capture the imagination of those who see them, and were even featured in a 1999 episode of The X-Files.




BREAKING NEWS:

Carl White's Life in the Carolinas just released a great 20-minute program on the lights! Click HERE.

Charles Braswell has published the most comprehensive book on the Brown Mountain Lights ever written! It's called Are Those the Brown Mountain Lights? Click HERE.

Brown Mountain is featured in the 2014 movie, ALIEN ABDUCTION! Joshua P. Warren also makes an appearance in the film. Click HERE for more info.

New video of the lights captured! Click the VIDEO FOOTAGE section above.

Report on the Cause of the Lights: Click HERE

For results from our Public Viewing of the Brown Mountain Lights on October 2, 2004, click HERE.

Clip of UFO over Brown Mtn: Click HERE

Odd Contrail over Brown Mtn.: click HERE

An Extraordinary True Experience: Click HERE

Explore more personal experiences HERE.

Wanna Help Us Research the Lights? Click HERE!
---


---
a



Official Site
All content copyright 2000-2014 by Shadowbox Enterprises, LLC