Understanding EVP
A Practical Demonstration
How is EVP activity recorded?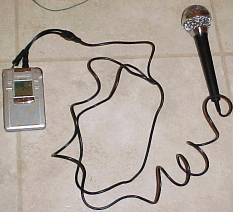 Electronic Voice Phenomena, or EVP, is a general term for ghostly sounds that are captured using audio recording devices. Traditionally, EVP refers to spectral voices, as the original term implies. However, that term has come to be used in connection with paranormal audio that does not necessarily include a perceived voice, or voices. EVP are most often sound effects, like footsteps in an empty room, or strange knocks and bangs. But, of course, voices are what most paranormal researchers strive to capture most. These voices can be interactive, answering questions presented by investigators or communicating information about the research environment.
EVP is most notable because it is not heard by the naked human ears. The recording is made in a place that appears to be quiet. However, when the recording is played back, the ghostly audio is heard. Sometimes an audio recording device is left to record by itself in an apparently quiet environment. Other times, an investigator will ask questions in a place that seems to be soundless, while recording the session and pausing after each question in anticipation of an answer. Then, when the recording is played back, answers will indeed follow the questions.
Humans can hear from around 20-20,000 hertz. If the recording device is sensitive to lower or higher frequencies, it could explain why sounds are captured that humans cannot perceive. However, the devices that capture EVP are usually sensitive to the same range as human hearing. This is perplexing to most people, since it doesn't seem to make sense that the recorder would document a sound that was not audible at the time. However, it is relatively easy to explain why this may occur.
For years, investigators speculated that spirits might directly imprint electromagnetically-sensitive audio tape. Indeed, this may sometimes be the case. However, the advent of the digital recorder changed that perception some, considering digital recorders use no tape, but are still capable of capturing EVP. Instead, it seems most likely that ghosts produce electromagnetic oscillations that are not perceived by human ears, but can be easily interpreted by a microphone. In fact, the type of microphone used may be the greatest factor in determining the quality and range of EVP a recorder can capture. This can be easily demonstrated with a relatively simple setup.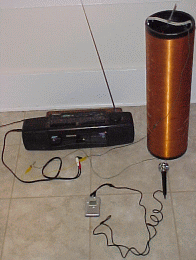 If you take a radio tuned to a station, and plug a large coil of wire into the headphone jack (where sound comes out), you will hear nothing. This is because the coil of wire does not act like a speaker. It only takes the electrical signal from the radio and broadcasts it from the coil. When you turn the volume on the radio all the way up, you still will not hear anything, but the electrical signal traveling through the coil is strong. Next, take an audio recorder, with an external microphone, hold it near the coil, and record. When you play the recording back, you will find the radio station has been recorded loud and clear. Sound was transferred electromagnetically from the coil to the microphone, and the microphone interpreted the electrical signal as sound to imprint on the recording medium. At no point were the sound waves resonating air (like a speaker), and the resonance of air is essential for such sounds to be perceived by ears.
Considering ghostly activity is so prominently connected to electromagnetism, it seems that spirits may communicate by producing electrical signals that are easily perceived by the microphone, but not the investigators present. Of course, if the investigators are monitoring the room live via microphones, then real-time audio communication may be possible.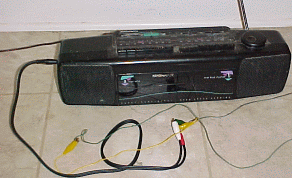 If you conduct the radio experiment, you can test out different types of microphones, and microphone positions, to determine the best techniques for recording EVP. Just remember to turn up the radio volume all the way and use an external microphone for best results. At many electronics stores, you can find a headset jack that is split into two wires. Simply hook each end of your coil to each of these wires, and plug the jack in securely. The larger your coil, the stronger your broadcast will be.
To hear some actual, ghostly audio recordings, click HERE.

lebron 12 beat by dre cheap sport blue 6s louis vuitton outlet michael kors outlet Sport blue 14s Lebron 11 cheap air jordan michael kors uk michael kors outlet sport blue 3s foamposites for sale kate spade outlet retro jordans for sale michael kors outlet kate spade outlet louis vuitton outlet louis vuitton outlet beat by dre cheap louis vuitton outlet michael kors outlet Lebron 12 louis vuitton outlet coach outlet online history of jordan 6s legend blue 11s for sale Michael Kors Outlet louis vuitton outlet sport blue 6s retro jordans louis vuitton outlet sport blue 6s Louis Vuitton Outlet cheap jordans sport blue 3s foamposites for sale new jordans 2014 louis vuitton outlet jordan 6 sport blue louis vuitton outlet coach outlet online history of jordan 6s lebron 12 history of jordan 6s louis vuitton outlet sport blue 6s cheap jordans louis vuitton outlet louis vuitton outlet Lebron 11 jordan 11 legend blue jordan 11 legend blue 11s legend blue 11s legend blue 11s jordan 11 legend blue jordan 11 legend blue legend blue 11s jordan 11 legend blue 11s legend blue 11s jordan 11 legend blue legend blue 11s legend blue 11s legend blue 11s legend blue 11s jordan 11 legend blue legend blue 11s legend blue 11s jordan 11 legend blue jordan 11 legend blue 11s jordan 11 legend blue 11s air jordan 11 jordan 11 legend blue jordan 11 legend blue legend blue 11s legend blue 11s legend blue 11s legend blue 11s jordan 11 legend blue legend blue 11s jordan 11 legend blue 11s jordan 11 jordan 11 jordan 11 jordan 11 legend blue jordan 11 legend blue legend blue 11s legend blue 11s legend blue 11s legend blue 11s legend blue 11s jordan 11 jordan 11 legend blue jordan 11 legend blue legend blue 11s jordan retro 11 jordan 11 legend blue jordan 11 legend blue jordan 11 legend blue jordan 11 legend blue legend blue 11s legend blue 11s jordan 11 jordan 11 jordan retro 11 jordan retro 11 jordan retro 11 jordan 11 legend blue jordan retro 11 jordan 11 legend blue legend blue 11s legend blue 11s jordan retro 11 legend blue 11s jordan 11 legend blue 11s legend blue 11s jordan retro 11 jordan 11 legend blue legend blue 11s jordan 11 jordan 11 legend blue jordan 11 legend blue 11s jordan 11 legend blue 11s