UPDATED April, 2011

L.E.M.U.R.'s new Lab is up and running! Check out our results thus far, and how you can visit, at: www.LEMURlabResearch.com
---
Amazing new experiments with crashed UFO debris! Check these out . . .
---
Join us on our upcoming Paranormal Cruise, May of 2009 . . .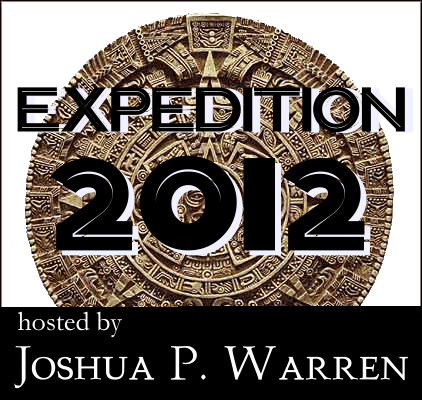 ---
* REPORT on L.E.M.U.R.'s June 2007 investigation of haunted caverns and a theater in East Tennessee: We learned more about cold spots and how to see ghosts using special glasses that strobe at a 100.11 hertz! Click HERE.
* Have you seen the amazing new "ghost" photo from the Gettysburg battlefield? Click HERE.
L.E.M.U.R. has investigated a new crop circle. This may be the first reported crop circle of 2007. For all the details, click HERE.
* Dark 30 Asheville! September of 2007, see Jim Marrs, Nick Redfern, and Joshua P. Warren unveil the latest news on the world's greatest mysteries. Seating is limited, so reserve NOW. See: www.Dark30Tour.com
---
* Need paranormal advice? Who ya gonna call? www.ParanormalHotline.com
* REPORT on L.E.M.U.R.'s January 2007 investigation of the haunted Old City Jail in Charleston, South Carolina: click HERE.
---
---
For results from the Sept. 29-31, 2006 Ghosts & Bigfoot Retreat at Graystone Cabins, click HERE.
Warrens PET GHOSTS has been released!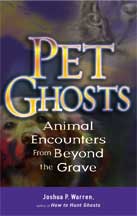 For pics from our Benefit Concert on September 16, 2006, at The Grey Eagle, click HERE.
Do batteries drain faster at haunted locations? For L.E.M.U.R.s new experiment, click HERE.
---
The 2nd Annual Speaking of Strange UFO Experience was a great success! For pics and video, click HERE.
The results of the Genesis Experiment are in. Click HERE.
Joshua P. Warren just reviewed the Tesla Purple Energy Shield, a pendant intended to alter the flow of subtle energies. To read the review, see: http://shadowboxent.brinkster.net/TeslaShieldReview.html
What is the origin of life? How do energy and physical life connect? Participate in L.E.M.U.R.s GENESIS Experiment by clicking HERE!
We have a new, 2006, update of our page regarding the NASA footage showing a strange anomaly on the moon. It has been the center of a firestorm of controversy for years. Now a secret NASA informant claims it's indeed legitimate! Click HERE.
In order to study this further on our own, L.E.M.U.R. has created an observatory. To see our first pics of the lunar surface, click HERE.
You can now hear some EVP recordings aired on the radio show Speaking of Strange with Joshua P. Warren. Just click HERE.
Soon the Discovery Channel will air the first episode of X-Ops, a new series exploring the paranormal. Joshua P. Warren and Brian Irish work on the show, and recently returned from Roswell, New Mexico. They weren't investigating the same old stuff, though. Instead, they were looking for GHOSTS of the dead aliens! You may be surprised by what they found. Check back here, and sign up for our free newsletter (through the homepage), for updates.
---

Joshua P. Warren just reviewed the new GhostRadar meter from Japan.
We are always looking for the latest technology to yield the best returns of solid paranormal evidence. Having the best technology means all the difference. The paranormal evidence and information is a payout. The better the technology, the better the "payout" and the more conclusions the paranormal world can gather. Everyone needs financing at some point and whether you need financing for paranormal evidence tools or for military loans, different outlets can help. For the military loans or military loans for bad credit, one can benefit greatly.
For his review, click HERE.
L.E.M.U.R. will produce a program and ghost hunt at the Smith-McDowell House, Asheville, North Carolina's first and oldest mansion, on Friday, October 14, 2005, 8-11pm. We plan to demonstrate how our equipment works, show some paranormal footage, then divide into groups to investigate the house. They can only accommodate a limited number of people, and admission is very reasonable ($10 or less per person). We did this before and it got packed out FAST (they had to turn lots of people away). So make your reservations now: smh@wnchistory.org and 828-253-9231.
The Smith-McDowell House is on the campus of A-B Tech, the Asheville-Buncombe Technical Community College. See: www.WNChistory.org
Joshua P. Warren and Brian Irish recently signed on to do a new TV series for the Discovery Channel. More details will come when they have permission.
Do you own a "haunted" or "cursed" item? Joshua P. Warren recently returned from Los Angeles shooting a special, with psychic/medium James Van Praagh, for TLC called Possessed Possessions. It's sort of an "Antiques Roadshow" for haunted and cursed items from around the world. Warren's job was to use scientific tools to measure any anomalous energy fields around the objects. That's currently scheduled to air Oct. 30 at 8pm east coast time. Van Praagh will be Warren's guest on "Speaking of Strange" October 29, 2005, 9pm, eastern time. You can call the program at 800-570-9962.
---

L.E.M.U.R. celebrated our 10-year anniversary and has set a new agenda to be even more focused on lab experiments.
Joshua P. Warren, along with psychic/medium James Van Praagh, will be on TLC's 2-hour special Possessed Possessions Sunday, Oct. 30, 2005, at 9pm east coast time. It's been described as an Antiques Roadshow for cursed and haunted objects from around the world.
The "Speaking of Strange UFO Experience" was a great success! For details, see www.SpeakingOfStrange.com
"Speaking of Strange with Joshua P. Warren" is now the no. 1-rated Saturday night AM talk show in the region and has a new time slot: 9-11pm east coast time, and streaming LIVE on the net at www.SpeakingOfStrange.com
---
You can finally access "Speaking of Strange with Joshua P. Warren" streaming live on the internet! The show airs every Saturday night, 9-11pm east coast time.
Just go to www.SpeakingOfStrange.com and click the link that says "Listen Live." That link will be fully functional in time for this Saturday's program. After quickly registering, for free, with 570 WWNC in Asheville, North Carolina, you'll be able to easily listen to their broadcast programming 24 hours a day.
We want to hear from new listeners with reports of the unknown or questions about weird and paranormal topics! We take calls the first hour regarding whatever's on your mind, and the second hour you can call to speak to our guest.
Toll free: 800-570-9962
Also, don't forget about our LIVE CHAT during show time at www.SpeakingOfStrange.com online.
For the first time ever, you can take the Official Haunted Asheville Ghost Tour on a bus! Plus, the walking tour has been updated for those who want to see Asheville up close and personal. They start at the site of Asheville's largest mass murder killing spree in 1906: Barley's Taproom & Pizzeria downtown. For complete details visit www.HauntedAsheville.com or to see the press release, click HERE.
Brian Irish visited the famed Coral Castle in Florida. The castle was built by one man using a technique that is secret to this day. Soon, we'll post some of Brian's pics on the web, plus some new clues on how the castle may have been constructed.
Wanna create a UFO? We're gonna have an all-day cookout in a field and then fly fake UFOs, made of helium, glowsticks, and similar substances in the air that night for prizes. It'll be great fun! For details, visit: www.SpeakingOfStrange.com
---

Joshua P. Warren hosts a new paranormal radio program, Speaking of Strange, Saturday nights! For more details, click HERE.
L.E.M.U.R. recently investigated Barley's Taproom & Pizzeria in downtown Asheville. They've experienced paranormal activity for years. For our results, please click HERE.
Near the end of last year, we investigated Sharky's, a haunted nightclub in Spartanburg, South Carolina. It used to be a morgue! For our complete results, please click HERE.
We have now released our official report on Grandmaster Tom Cameron, an expert on the Chinese "Death Touch" who is often called "The Human Stun Gun." For the report, click HERE.
Sign up NOW to join our next expedition: "Haunted Castles of Ireland" for this Halloween week. It's limited to 100 people, and you can make payments till August. See www.ParanormalExpeditions.com
---

L.E.M.U.R. has finally released an official report on the cause of the Brown Mountain Lights! Click HERE.
We had a WONDERFUL time exploring the Bermuda Triangle and Bahamas for Halloween of 2004. For results, click HERE.
Join L.E.M.U.R. for Haunted Castles of Ireland!
EXPEDITION: Spend next October exploring Ireland haunts with L.E.M.U.R. Investigators! It's limited to 100 people, first come, first serve, so SIGN UP NOW if you want to go. You have until August of 2005 for final payment. This incredible package is an affordable value for an unforgettable adventure. For all the details, see: www.ParanormalExpeditions.com.
We will soon release our report detailing experiments with "death touch" Grandmaster Tom Cameron in Chicago.
---
L.E.M.U.R. TV Appearances
Though L.E.M.U.R. will be seen on a number of television programs throughout the fall, these dates/times are currently considered "confirmed":
Thursday, October 28, 2004, 8pm and 11pm EST, Travel Channel: "Weird Travels"
Saturday, October 30, 2004, 6:30pm EST, History Channel: "Guts and Bolts"
Please note that these dates/times are always subject to change.
Joshua P. Warren's documentary Alone in a Haunted House is now available on DVD. For more information, visit www.HowToHuntGhosts.com.
For results from our Public Viewing of the Brown Mountain Lights on October 2, 2004, click HERE.
---
Rain or shine, L.E.M.U.R. will hold a public viewing session at the Brown Mountain, NC overlook off Highway 181 on Saturday, October 2, 2004, at 7pm. We will have a variety of equipment on hand to document energy fields in the area. If you can attend, please try to bring a video camera to document the lights if they appear. For directions, click HERE.
We just finished working with the History Channel for a program about paranormal investigation tools/history to air next year. For the show, we spent a weekend exploring the North Carolina capitol building in Raleigh. Our access was virtually unlimited. We even took readings in the governor's office and from the huge copper dome that caps the structure. To preserve our objectivity, information regarding the large building's activity was withheld from us before the investigation. We were impressed when L.E.M.U.R.'s Micah Hanks documented extraordinary, transient, 1 Hz fields moving in an area around an old library. Capitol staffed were delighted to tell us they had seen apparitions gliding throughout that exact area, considering it the most active place and subjectively confirming our ability to locate strange EMFs associated with the paranormal.
As Halloween approaches, the HAUNTED ASHEVILLE GHOST WALK will continue running strong (see: www.HauntedAsheville.com for details).
Also, we plan to release reports regarding our results studying martial arts Master Tom Cameron in Chicago, and Brown Mountain research, soon. Times are busy, so please be patient!
---
L.E.M.U.R. has achieved something extraordinary. After 10-15 years of research, we have reproduced a phenomenon like the Brown Mountain Lights on a miniature scale in the lab! Once we've gathered some more data, we will be releasing a comprehensive study that will explain our theory regarding this magnificent phenomenon. It could have important implications for our technology. In the meantime, click HERE for a photo and more details.
L.E.M.U.R. just returned from Chicago, spending nearly a week documenting the mysterious bio-fields produced by martial artists who specialize in the Death Touch. Grandmaster Tom Cameron has been featured on RIPLEY'S BELIEVE IT OR NOT due to his extraordinary skills, and L.E.M.U.R. measured amazing electromagnetic fields in his presence at our conference last January. Soon, we will release a report detailing our findings studying Cameron and his students.
A Ghost Walk based upon the book HAUNTED ASHEVILLE has opened. It is the only ghost tour owned and operated by lifelong residents of Asheville, North Carolina. Not only are haunted locations explored, but those who attend also learn how to conduct ghost research scientifically. For details, see: www.HauntedAsheville.com
We just worked with Travel Channel for HAUNTED HOTELS, WEIRD TRAVELS, and HAUNTED SOUTH. Some of these will air this fall around Halloween. Currently, we are planning to work with The History Channel on a special regarding paranormal investigation.
Nearly 100 people have signed up for our Paranormal Cruise to the Bermuda Triangle, and the Bahamas (investigating pirate ghosts), this Halloween week! The deadline for reservations has passed. However, we were able to convince the cruise line to extend the deadline, one last time, to August 19. Each year we will produce a Paranormal Expedition to a fantastic location at an affordable price. We already have next year planned, but it's a surprise! However, according to current arrangements, no more than 80 people can attend next year's expedition. Therefore, those who come along for the cruise this October will have the first opportunity to sign up for next year's adventure. For all the details, visit: www.ParanormalCruise.com and www.ParanormalExpeditions.com
This is an exciting year for us and we hope you'll join.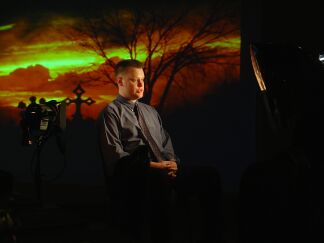 Joshua P. Warren being interviewed again for the Travel Channel
---
Have a ghost? L.E.M.U.R. has a new page addressing the basic methods behind detecting and "busting" ghosts. It was designed in response to the many emails we receive each week requesting this type of information. To visit the page, click HERE.
Have you seen the footage that some claim shows the ghost of Henry VIII? It was captured last December in London. Click HERE.
Receive an autographed book, video, EMF meter, or access to a L.E.M.U.R. investigation by donating! We need funding to purchase new scientific equipment. For more info., please click HERE.
---
Paranormal Cruise into the Bermuda Triangle! Spend next Halloween exploring the Bahamas with L.E.M.U.R.! For all the details, click HERE. We've been able to arrange an extension on reservations, so long as space is available! However, space is extremely limited. Visit www.ParanormalCruise.com NOW.
L.E.M.U.R. now has a NEW Discussion Board. This is an advanced forum with far more features than our old board. It should be able to accommodate the needs of discerning board connoisseurs worldwide! Unlike our old one, you must register to use this one, supporting more substantive conversations and responsible use. Registration is quick, easy, and free. This board will be the heart of our paranormal community, and a place to find and discuss breaking news about the unexplained. To visit the board, click HERE.
In April of 2004, Trotter Promotions will begin a daily Ghost Walk in downtown Asheville, North Carolina, based upon HAUNTED ASHEVILLE, the #1 regional bestseller by Joshua P. Warren. For more information, click HERE.
We are also entertaining offers from producers who are interested in developing a paranormal TV series with us. Breaking news on that front will also be posted here.
The Third Annual Paranormal Conference was a huge success! In addition to the usual slew of ghost sightings, photographs, and physical effects, L.E.M.U.R. was especially amazed by the "Extreme Martial Demo: Death Touch" presented by Master Tom Cameron and his students from Chicago, IL. Cameron has been featured on "Ripley's Believe it Or Not" for his ability to project mysterious energy fields that can knock down a person, make him pass out, or even kill him, without any physical contact. During his program, L.E.M.U.R. Investigators documented powerful electromagnetic fields, maxing out our meter, that occurred when Cameron projected energy. He was producing over 1 milliGauss, more than 1000 times the EMF that should emanate from a human. We're so excited by this that our team plans to travel to Chicago this year to study the abilities of Cameron and his students under lab conditions. We might be able to provide the first well-documented proof of a telekinetic phenomenon.
Soon, pictures from the Conference will be posted at www.ParanormalConference.com
Don't forget to sign up for our free e-newsletter for updates on our work! See the home page.
---
A fascinating new ghost photograph has been posted on the site. To see it, click HERE.
For an exploration of recording ghostly audio (EVP), click HERE.
Joshua P. Warren's new book, How to Hunt Ghosts: A Practical Guide, has been released. Amazon.com has it for less than $12.00. To learn more about the book, and find affordable ghost hunting tools, visit: www.HowToHuntGhosts.com
---
Strange Moon Footage
L.E.M.U.R. Internet Exclusive: An anomaly on moon images has been discovered after analysis of NASA's Apollo 8 mission in 1968. For all the details, click HERE.
Plus . . .
Outstanding video footage of a paranormal orb, shot by L.E.M.U.R. VP Brian Irish, has just been added to our site. Click HERE to see it.
---
Have a paranormal photo to be examined? Visit this new section of our site! Click HERE.
We have updated the Brown Mountain site with information gained/confirmed from recent L.E.M.U.R. research. For more info., click HERE.
Our Remote Viewing experiment has come to an end without establishing a reliable group of viewers. However, we are analyzing the experiment's data and plan to use it to create a more advanced experiment. If you'd like to participate, please make sure you subscribe to our free email newsletter. We'll solicit participants via the newsletter when the time is right. You can join on the homepage.
---
The L.E.M.U.R. team has been busy as usual!
We've investigated a number of confidential, private properties that have exhibited some strange results, indeed. We're most excited by video footage and EVP captured in the attic of an old 1920s mansion. A distinct light is seen bobbing in the attic's corner for a full 50 seconds and later, an eerie voice can be heard pleading "please stop!" We are extensively analyzing these remarkable recordings and hope to place some samples on the site soon (depending on some technical issues). However, this footage will be formally presented at our conference in January of 2004.
We have been able to make no progress in documenting physical evidence of "little people." However, some of the eyewitness accounts we've collected are compelling. The hair we collected from the scene of numerous bigfoot sightings is most likely from a raccoon, but we cannot determine that for sure since the root is not intact.
We have some major investigations coming up in the next month, but we can't disclose the locations or details about them until afterward.
We're proud to announce that Loren Coleman, the world's leading cryptozoologist, has joined L.E.M.U.R. as a Research Affiliate! For more info. about Coleman and his groundbreaking work, visit: www.LorenColeman.com
---
Right now, you can purchase a ghost hunting EMF meter for only $29.95!! Go to: www.GhostMeter.com
Joshua P. Warren had an article in the May 2003 issue of FATE Magazine called "Rock Solid Proof of Ancient Astronauts?" It explored the mysteries of Judaculla Rock. You can learn more about this ancient site by visiting JudacullaRock.com .
L.E.M.U.R. recently investigated a haunted fondue restaurant, The Melting Pot, on the night of the lunar eclipse! For more info. on this location, click HERE.
---
L.E.M.U.R. has completed a preliminary expedition to search for the Lake Norman monster outside Charlotte, NC. For more info., click HERE.
The L.E.M.U.R. team has been conducting a slew of investigations lately, including haunted houses, The Brown Mountain Lights, and Judaculla Rock. Soon we will be conducting an expedition to study reports of a "lake monster," as well as a site where mysterious "Little People" have been seen.
Receive 2 FREE ghost hunting tools with a special promotional offer! Click HERE to visit the new site:

www.HowToHuntGhosts.com
---
L.E.M.U.R. VP Brian Irish has a video available called INTO THE NEXT DIMENSION. It showcases some of his best paranormal video footage and stills acquired over the past few years. Highlights include the Brown Mountain Lights, a physical object being manipulated in a haunted house, a UFO, and more. It's an especially great resource for the beginning investigator who wants to learn how visual anomalies often appear. For more information, visit Irish's site by clicking HERE.
---
We've posted some surprising photographs on the site!
In late November, 2002, Joshua P. Warren and Brian Irish were photographing the Palm Court of Asheville's historic Grove Park Inn. This is the area where the Pink Lady apparently fell to her death. Amazingly, both Warren and Irish were able to simultaneously photograph the same anomaly from slightly different angles! To see these photos, and get more details, click HERE.
Also, for the past year, L.E.M.U.R. has been experimenting with a bizarre form of imaging known as Kirlian photography. Kirlian photographs are made by placing the subject directly against a photographic plate and passing an electrical current through the specimen. The team may have discovered a strange new Kirlian effect. This effect may demonstrate that plants possess a consciousness! For photographs and more details, click HERE.
---
In November of 2002, the L.E.M.U.R. team held a 2-night camping expedition at Brown Mountain. We saw some unexplainable illuminations and obtained valuable objective energy readings. We were also surprised to find out that an appearance of the lights will make a Geiger counter go nuts! We were graciously joined by Dr. David Hackett, one of the original members of ORION, a team of researchers from the Oak Ridge National Laboratories who investigated the phenomenon extensively from the mid 1970s through the 80s. He believes the Geiger counter reaction is caused by the lights' extreme ionization (or electrical charges) as opposed to dangerous alpha, beta, or gamma radiation. Let's hope he's right!
---
On Tuesday, October 29, 2002, 7pm, The L.E.M.U.R. team held a special presentation, and book signing, at the Smith-McDowell House, Asheville's oldest standing structure. We discussed the basics of investigating a haunted house and showed paranormal footage from our last investigation of the mansion. For more information on the Smith-McDowell House, contact Rebecca Lamb, Executive Director of the Museum, at (828) 253-9231.
On Wednesday, October 30, 2002, 7-8pm, intuitive Angela Moore joined Joshua P. Warren for a book signing/program at Barnes and Noble Booksellers off Tunnel Road, next to Best Buy. The feature was a presentation by Angela Moore in which she gave "readings" of the audience in the style of the hit TV show "Crossing Over with John Edward." In the meantime, Warren signed books and discussed paranormal experiences with attendees one-on-one, hoping to find more good locations for L.E.M.U.R. to investigate. Other members of the team were in attendance, as well. Our group usually focuses on objective, scientific information gathering. This evening was an exceptional occasion to explore the accuracy of gathering information subjectively, using ESP and the bare human senses.
On Halloween night, 2002, L.E.M.U.R. investigated the Cool World Dance Club from 10pm till closing. When the club is packed, activity is most pronounced. This was a unique Halloween opportunity to see the team in action! To learn more about Cool World and its activity, click HERE.
Ghost ship!
L.E.M.U.R. recently did a preliminary investigation of the Queen Mary, a haunted ship in Long Beach, California. For more details, click HERE.
---


The L.E.M.U.R. team has certainly been busy!

We just got back from a meeting with the famous and respected Rhine Research Center in Durham, NC. They carry on the groundbreaking work of parapsychology pioneer J.B. Rhine of Duke University. The facility is now directed by J.B.'s daughter, Dr. Sally Rhine Feather, and her fantastic staff. We shared thoughts on paranormal research and plan to work together on some projects in the near future. You can check out their site by clicking HERE.

Our team also received a fascinating presentation on regional cryptozoology (study of hidden animals) from Mike McCurry of High Point, NC. To learn more, and see casts of actual Bigfoot prints, please click HERE.

A new video clip has been added to the L.E.M.U.R. site. It shows one of our meters being physically manipulated by an unseen force! Click HERE.


---


New Clip of UFO over Brown Mtn! Click HERE

For An Extraordinary True Experience near Brown Mountain: Click HERE

.


---


Are you TELEKINETIC? Can you directly control physical matter with your mind alone? Find out with this simple technique. Click HERE!


---


The site has been updated with a fascinating video clip shot by L.E.M.U.R. Vice President Brian Irish. It shows a ghostly energy emerge from a drawer in a haunted room. To see it, click HERE.

Please visit this page often for updates.