In the fall of 2003, L.E.M.U.R. was sent these photographs from the Historic Worley B&B Inn (c. 1845) in Dahlonega, Georgia. According to the Inn s Marketing Consultant, a professional photographer was hired to take pictures of the building in 1999. Afterward, the photos were stored away for four years. In 2003, while perusing the images for their website, they saw a bedroom picture with a blur, and assumed it was simply a photographic flaw. But then someone noticed a ghostly figure lying on the bed within the haze.
Here you can see the photo, as well as a close up of the figure. The Inn believes this is the ghost of Claude Worley, a teenager who died in the house in the late 1800s after being hit by a train. A photo of Claude is below.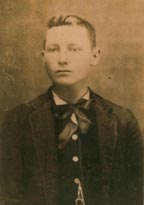 You can learn more about the Historic Worley B&B Inn by visiting their website. Click HERE.
Many people consider consulting a Home Advisor paranormal expert when they notice that their photos show more than what was seen with their naked eye. There are many kinds of "home advisors." In this particular instance, they were in need of a professional to make sense of the photo to determine whether this was the ghost of Claude Worley. The photo is quite clear, and whether being a home advisor of the paranormal or not, the sense that this may be Claude is clear.
To view more paranormal images, click HERE.