For results from the Rhine Exhibit Remote Viewing Experiment, click HERE!
Examine real ghost photographs! Measure and photograph your body's electrical energy field! See authentic plaster casts of Bigfoot prints and compare your own foot to a Bigfoot's! Control cyborg computer software with your thoughts alone! Experience how a ghost's physical body may feel, and more! Plus, professional ghost hunting meters, videos and other paranormal products will be available.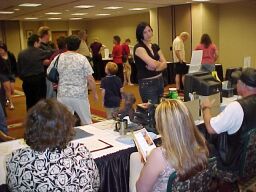 The Free Paranormal Exhibit is a special, traveling display that both shares paranormal knowledge and collects information for future paranormal studies. The exhibit is sponsored by Simon and Schuster's new book, HOW TO HUNT GHOSTS, by Joshua P. Warren, and L.E.M.U.R. Paranormal Investigations (Asheville, North Carolina), of which Warren is founder and president. Warren and L.E.M.U.R. have been featured on the Discovery Channel, Travel Channel, and Coast to Coast AM with Art Bell/George Noory. Warren is an award-winning writer whose works include HAUNTED ASHEVILLE and THE EVIL IN ASHEVILLE. L.E.M.U.R. is best known for their work on the eerie Brown Mountain Lights (they were the first group to videotape them), the ancient and mysterious Judaculla Rock, and the Pink Lady of the famous Grove Park Inn.
In addition to the attractions we provide, we also frequently make use of local experts, inviting paranormal investigators, authors, psychics, and other such personalities from your area.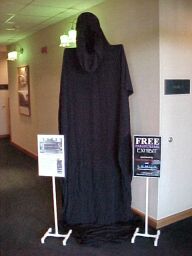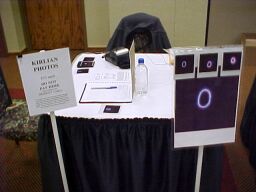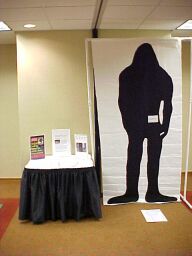 ---
Upcoming Exhibit Locations
On each date, the exhibit is open from noon till 9pm.

Due to unforeseen circumstances, the Paranormal Exhibit has been put on hold. The dates for Tennesse and Virginia have been postponed.

For more information about the book, How to Hunt Ghosts, please visit: www.HowToHuntGhosts.com

For more information on L.E.M.U.R. Paranormal Investigations, please visit: www.LEMURteam.com
---
This special program is presented by: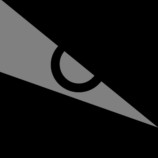 Shadowbox Enterprises, LLC