Speaking of Strange & News Radio 570 WWNC present
---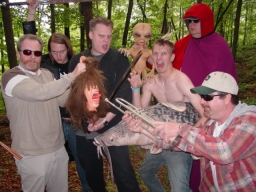 L.E.M.U.R.

Rocking for Paranormal Research!

BENEFIT CONCERT

Joshua P. Warren + Micah Hanks + John Anderson +
Brian Irish + Caleb Hanks + Al Proffit & More!
---
Click HERE for more images from the show!

The L.E.M.U.R. Concert at The Grey Eagle (Asheville, NC) on September 16, 2006, was a true party for all! It was the first time we've all played together on stage, and the room was electrified. Money raised goes toward new experiments. To stay updated on those experiments, please subscribe to our free (and spam-free) e-newsletter.
The photos from the concert are available to all. However, video footage is available online for L.E.M.U.R. Affiliates only, click HERE. To learn how you can become an Affiliate, click HERE.

We enjoyed it so much, we're considering playing at future parties. If you're interested in hiring a team of paranormal researchers to entertain you with 2 hours of rock and roll, blues, jazz, and more in addition to paranormal presentations on ghosts, bigfoot, UFOs, or psychic phenomena, please contact us at: Show@LEMURteam.com
The L.E.M.U.R. Band is: Joshua P. Warren (singing and keys), Micah Hanks (singing and lead guitar), Caleb Hanks (singing and bass guitar), Brian Irish (singing and trumpet), Dr. Al Proffit (drums), John Anderson (guitar) and Casey Fox (singing and guitar).
Copyright � 2006 by Shadowbox Enterprises, LLC